Projectyou, certified by ILME as Organization for the training and preparation of the candidates for ELA certification, announces the D΄Cycle of preparatory seminars which will start on 22 April 2017 (Operational and Managerial levels) and will finish with the exams on dates 24-25 June 2017.
For information : 00306977999254, info@projectyou.gr,
For subscriptions : press here
For first time a preparatory training and certification program is specially designed and offered for Logisticians based in Bulgaria, FYROM and Serbia.
Α΄, Β΄ and C΄ Training cycles
Since February 2016, 3 cycles of training and exams have been completed. In total more than 90 individuals attended, 80% of them chose Projectyou for their preparation. Projectyou is certified by ILME Education Organization approved to run ELA training.
Managers and operational employees from following companies attended the programs :
VIVARTIA, DELTA, BARBA STATHIS, GREENFOOD, EZA BREWERY, DHL, SWISSPORT, SKYSERV, SAMARAS, TEKA, METRON LOGISTICS, SARMED, FOODLINK, TRANSCOMBI, ARCADIA CARGO, ARION TRANS, ARGOS, ΕΚΟL, ARIONA, LEROY MERLIN, REVOIL, MASSOUTIS, LOGISTICS SOLUTIONS, PGS, HAIKALIS, KAYSIS, BRIGHT, LOGIKA, 3M, SMART TRANS, VIANOX, PELLA MUNICIPALITY, GREEK ARMY, etc.
(see photos here and comments here)
Certification Body
Exams for certification are performed by Hellenic Institute of Logistics Management (HILME) which is approved by ELA Certification Center since 2015.
– ELA Certification is recognized by more than 30 countries in Europe and World
– 8000 Logisticians have been already certified since 2000
Training and Preparation Organization
Projectyou is approved by HILME training Organization for ELA Certification.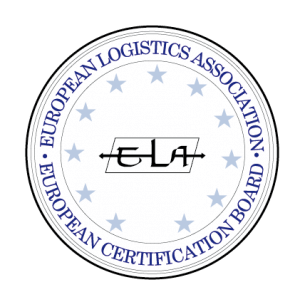 What the Certification offers
√ A common base for standardized and integrated approach of all stages of Supply Chain, including Suppliers and Customers.
√ A common language between all the contributors in the Supply Chain
√ An Independent and International Certification
√ A holistic approach of all traditional topics as well modern ones such as, Globalization, Management, IT, Cross-department relationships, Partnerships, Sustainability, etc.
Benefits for Employees
√ you certify your professional competence
√ you learn the global language for communicating in the Global Supply Chain Market
√ you upgrade your CV and your career perspectives
√ you empower your self-confidence as professional
√ you are member of a global network of Logisticians
Benefits for Employers
√ your personnel speaks a common language inside the company and in the Market
√ you standardize the modus operandi irrespective of the movements of your personnel and partners
√ you achieve a competitive advantage and enhance the chances for cooperation with national and international great players
√ you provide an excellent motivation to your personnel for advancing their productivity and development
Who can be certified
There are 3 levels of certification depending on the education, work experience and position level.
ΕJLog : Operational / Junior level, ESlog : Μanagerial / Senior level, EMLog: Strategic / Master level.
Following professions can attend the program :
√ Supply chain Mgrs, Logistics Mgrs, Transportation Mgrs, Performance Mgrs, Procurement Mgrs, Customer Service Mgrs, Production Mgrs
√ Warehouse Supervisors and Assistants, Schedulers, Forwarding Agents, Supply and Demand Planners, Production Planners, Fleet Mgrs, Buyers, Customer Service Assistants, etc
√ IT Logistics software Developers and Consultants √ Owners of 3PL and Transportation companies
√ Graduates of all levels of education
When next exams are scheduled
Basically the exams are made twice a year in Athens or Thessaloniki. Next exams are scheduled for 24-25.06.17.
Logisticians who are based in Bulgaria and other south Balkan countries, will be offered two options : a. Exams combined with short vacations by the sea in Stavros village –Chalkidiki on 22-23.06.17, see here photos and see booking preferences here. During these days they will have a full program including : Refreshing training sessions, swimming, barbeque, exams and visit in hyper markets and Thessaloniki City Center. (see detailed program here)
b. If a critical number of candidates prefer to have exams in Sofia, this will be scheduled in September 2017.
When the training and preparation program starts
Projectyou organize a training program starting 22.04.17 according to the schedule you may see here
Projectyou possess a rich experience in organizing the training and preparation for European Certification programs:
1. Supply Chain Operations and Management–European Logistics Association-ELA
2. Project Management – International Project Management Association IPMA and
3. Εuropean Energy Managers – EUREM

Who are the trainers
The trainers are:
√ Managers with years of experience in supply chain
√ Lectors of Educational organizations
√ Mentors for personal and professional development
See detailed CVs here
Which are the topics and training syllabus
Training covers a wide range of topics, indicatively :
● Basic Principles (Logistics economics, P&L, 4pl value, Benchmarking and performance management, NPV, budget control, business plan, pricing strategy, outsourcing strategies, performance scorecard, organization structure, etc)
● Management skills (Own and Team development, change management, communications, decision making, chairing meetings, team management, situational leadership, MBO, etc)
● Process management (Trade-offs, value-chain, demand variability, lean and agile supply chain, total SC costs, quality mgnt, Business test scenarios, Process reference models, value stream mapping, problem solving techniques, reverse logistics, KPIs, process improvement opportunities, options modelling, etc)
● Project management (business case, project objectives, project plan, project tools, change management, governance structure, life-cycle cost, gate process, cost management, quality management, performance vs acceptance, etc)
● Demand, Production & Distribution (inventory replenishment models, stock ageing, products to orders allocation, ABC analysis, forecasting methods, "available to promise" concept, planning techniques, inventory optimization, collaborative forecasting, push/pull planning, safety stocks, vendor management inventory, risk management etc)
● Warehousing (order picking strategies and methods, layout design, packing optimization, hazardous goods, service providers, safety procedures,WMS, etc)
● Transportation (routing and scheduling, transport procurement process, transport cost elements, European transport legislation and policies, TMS, design a distribution network, etc)
● Sourcing (procurement process, supply market analysis, purchasing approaches, supplier certification, supplier evaluation and selection criteria, negotiation strategies, supplier performance, KPIs, e-procurement, collaborative supplier relationships, etc)
● Customer service (KPIs, Customer Relation Management-CRM, multi-channel communication, customer service policy, etc.)
Detailed syllabus of all modules you may see here
Which is the duration of the training
The training and preparation lasts 45-55 hours, depending on the level of the candidate. These hours are allocated in training room, e-learning and homework.
Which is the cost of training- preparation
● The cost of training is defined from 450 up to 700 E for the Junior/Operational level and from 700-1100 E for the senior/managerial. The precise cost will be defined after a telephone interview with the coordinator of the program, and will depend on the "maturity' of the candidate (Studies, experience, position level)
● For more candidates from the same company or for groups of individuals will be offered a special price depending on the number of candidates : For 2 candidate, 15% discount to all, for 3-4 candidates 25% discount for all. For more candidates will be a specific arrangement.
● PAYMENT TERMS : Advance payment 50% of the agreed sum, the remaining in 2 monthly installments.
Which is the cost of exams-certification
For the cost of exams you may be informed by   email  :  ilme-ecl@ilme.gr
Special agreement is likely for more candidates
Communication
For clarifications and other information regarding your subscription you are welcome to contact with the Coordinator of the program :    0030 6977999254,  info@projectyou.gr,
Seminars Location
The seminars will be held the weekend 22-23.04.17 in Sofia and 22-23.06.17 in Chalkidiki. Exact places will be announced at a later stage.
How to subscribe in the program
Dates for Cycle

Athens & live e-learning: 28.04.18 - 16.06.18

Location

Marousi
<! -- This script adds "New Seminar" icon above the featured image of each new seminar -->